Product Description
Principle
GHL Series Quick Mixing Granulator is equipped with a closed container with blending tools driven from above or below has long been applied by the pharmaceutical industry. The mechanical effect of the blending tools – irrespective of whether in batches or continuous operation – creates a denser granulate than the fluidized bed process.
Originally, the granulation liquid was poured into the product. Today, an improved dosed distribution using a spray nozzle is preferred in order to obtain a more even granulate.
The granules are distinguished by a compact structure and high bulk density. They have good flow characteristics and can be optimally pressed. For various applications in pharmaceuticals and related industries.
the GHL series High Speed Blending Granulator often connect with YK series Swaying Granulation Machine to get 1.5-5mm wet granules, and then direct to send the drying machine to get dried granules (instant granules), the drying machine can use Vertical Fluid Bed Drying Machine or Horizontal Fluid Bed Drying Machine, but it decide by the treating capacity. The final granules will choice uniform granules by the Granule Vibration Sifter (Round Vibration Sieving Machine or Square Vibration Sieving Machine)
Feature
1. High Speed Granulator have low noise and good seal
2. Enclosed structure, without overflow of power dust
3. Smooth running, reliable performance, easy operation.
4. Small cubage, easy to install, convenient to operate and maintain.
5. Compared with the traditional process,25%) of adhesive can be reduced and the drying time can be shorted;
6. The time of mixing in dry is 2 minutes and the time of granulating is 1-4 minutes. Compared with the traditional process, 4-5 times of efficiency is raised;
7. In the same sealed container, dry mixing, humidity mixing and granulating can be finished, it is in conformity with the requirements of GMP;
8. The whole operation has strict safe and protective measures.
9. The mixing and cutting speed are controlled through frequency change, so the granules are more even.
10. Highly polished inner and outer surfaces of the barrel, no dead comer, easy to discharge materials, easy to clear, no cross contamination. Confining to the requirement of GMP.
11. Control system has more choices, such as push button , HMI+PLC and so on.
12. Machine materials : AISISUS304 , AISISUS316L, and other material .
13. For the electrical component , we mainly use international brand such as ABB ,Siemens.
Application
It's widely used in the pharmaceutical, chemical, metallurgical, food, light and feed industries. This machine can mix powder or granules very evenly so that the mixed materials can reach the best effect.
| | | | | | | |
| --- | --- | --- | --- | --- | --- | --- |
| Model | GHL-50 | GHL-100 | GHL-200 | GHL-300 | GHL-400 | GHL-600 |
| Tank volume (m3) | 50 | 100 | 200 | 300 | 400 | 600 |
| Working volume (m3) | 12-36 | 25-70 | 50-150 | 60-220 | 100-280 | 150-400 |
| Feeding capacity (kg) | 6-18 | 12-35 | 25-75 | 30-110 | 50-140 | 75-200 |
| Max inside diameter (mm) | 498 | 628 | 788 | 988 | 988 | 1130 |
| Stirring speed (r.p.m) | 50-500 | 30-360 | 30-260 | 20-200 | 20-200 | 20-200 |
| Stirring power (kw) | 5.5 | 7.5 | 15 | 22 | 22 | 30 |
| Cutter speed (r.p.m) | 50-3000 | 50-3000 | 50-3000 | 50-3000 | 50-3000 | 50-3000 |
| Cutter power (kw) | 1.5 | 3 | 4 | 7.5 | 7.5 | 11 |
| Height of discharge (mm) | 725 | 750 | 930 | 930 | 930 | 1160 |
| Machine size (mm) | 2100*480*1500 | 2900*900*1700 | 2250*1700*2100 | 2500*1960*2220 | 2500*1960*2320 | 2900*2330*2630 |
| Weight (kg) | 500 | 880 | 1410 | 1850 | 1900 | 3800 |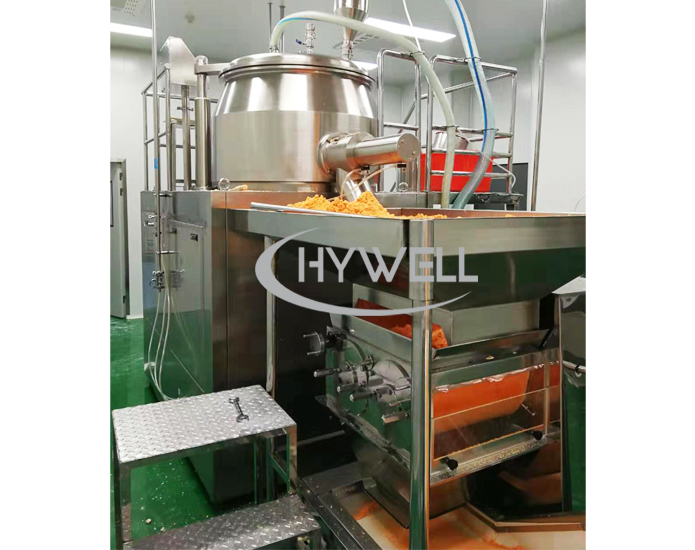 Why High Shear Mixers are important?
The advent of high shear mixer granulators also called rotor/stator mixers revolutionized mixing technology. Imparting vigorous radial and axial flow patterns and intense shear, Hywell machinery Rapid Mixer Granulators accomplish a variety of processing objectives including homogenization, emulsification, powder wet-out, and agglomeration.
Hywell machinery High Shear Inline Mixers are used throughout many industries, including the pharmaceutical, health product, food, cosmetics, and chemicals industries. For challenging applications, Hywell machinery also offers advanced rotor/stator configurations: Ultra-High Shear Mixers capable of producing very fine emulsions and dispersions.
Hywell Machinery uses innovative solid dosage production process for High-Speed Mixers
High shear mixer is an innovative solid dosage production platform designed to achieve operational excellence in the pharmaceutical manufacturing Industry. Raw materials are converted into final dosage forms in development, pilot, clinical and production volumes using wet granulation in one continuous production line. Hywell Machinery high shear homogenizer, offer the outstanding advantages of efficiency and product uniformity achieved with shearing mixing.
Hywell Machinery offers Industry level Rapid Mixer Granulators
Hywell Machinery shear mixer includes GHL Series rapid mixer Granulators. A whole set of rotor/stator mixer includes loading system, impeller system, spray system, chopper system, wet granulation equipment system, control system, etc.
These high shear mixers' have high-quality granulator choppers which are used to ensure an optimum granular structure. More Specifically, the GHL series Rapid Mixer Granulator or High Shear Mixer Granulator is equipped with a chopper with straight high shear mixer blades. The position of the chopper in the lower third of the working vessel results in its very high level of efficiency, even in the event of minimum filling volumes.
Rapid Mixer Granulators: Choppers, Impellers
Hywell shear mixer's chopper has two modes of speeds: two speeds or variable speed. Main shaft and chopper shaft are designed with one-way flow air seal, flow rate, the pressure of air seal can be measured & controlled to prevent and detect powder or water from entering inside.
The all-important tool in the wet granulation is the bottom driven Z-Rotor (Impellers). The unique geometry of the Z-Rotor ensures maximum efficiency while minimizing the power required. Cutting edge measuring and manufacturing processes ensure that the gap between the rotor/stator and the bottom of the working bowl is kept to a minimum while maximizing product yield.
Hywell machinery's Unique high shear mixer technology is combined with easy handling. Our high shear homogenizer is of very fine quality with affordable prices. So if f you want to start a wet granulation equipment business, please contact us for more details soon
We offer free Customization & Consultancy services for Rapid Mixer Granulators
Hywell machinery high shear mixers can be customized according to your requirements, We are a leading high shear mixer manufacturer, and always at your disposal for any information required regarding high shear or rapid mixer granulators. once you supply the detailed user requirement statement(URS), we can supply the equipment line drawings and suggestion for your factory layout, and we will also provide you technical support for free.
Changzhou Hywell Machinery Co,.Ltd
About Us
Hywell Machinery is a market leader in one stop smart pharmaceutical production solution experts and your premier one stop solution pharmaceutical equipment manufacturer. Hywell Machinery main products include High Shear Granulator, Fluid Bed Dryer, Fluid Bed Processor, Fluid Bed Granulator, Vacuum Conveying, Bin Blender, 3D Mixer, Vacuum Dryer and so on.
Hywell Machinery custom design your project according to your process and layout requirements. As process equipment, we resolved a lot of process problems for clients during 20 years.
Hywell Machinery realized the application is key important, that is why we focus on integrating process and machinery, resolve your process problems.
Expertise from lab to production processes defined by your product. Hywell Machinery also have the laboratory machinery that include the lab granulator, lab powder mixer and lab drying machine.
Hywell Machinery has special kinds of dust-free solid dosage forms granulation lines and Powder mixing lines. Your process in mind innovation technology for special applications.
Hywell Machinery can improve process test service for your best equipment choice. Customize and design best equipment which satisfied with your process. Because only those who understand the process and know details can develop products that can do more than just the sum of individual components. Hywell Machinery support you in pharmaceutical, health product, food, fine chemical and feed processing through our international innovative process solutions.
Hywell customize all documentation related to the equipment, making easier the training, operation and maintenance of the equipment trough the life term even in the more exigent industries as the pharmaceutical market, we provide a complete set GMP documents including Qualifications(DQ,IQ, OQ,) , FAT, SAT, USER manual documentation. We perform the qualification executions as customer requests.
Our business sections are operating under the strict International Quality Standard of operation with control regulation certificate ISO9001 which is called the [International Quality Certifications".
Machine manufacturing is a very competitive business that demands continuing productivity improvements and cost reductions.
Hywell Machinery aiming to be the top-level pharmaceutical equipment manufacturer and supplier.
Passionate about our business, we are continually pushing the limits of our know-how to provide high-quality, innovative, and mixing, granulating, drying solutions for a host of international brands.
Welcome visit our factory at any time!
Hywell machinery Presence & Prospect
Hywell machinery company. is established as the professional manufacturer of industrial mixing, granulation, Drying equipment and system. Our state-of-the-art technology and know-how in this section is originally from China; along with the low labor cost advantage in China, Hywell machinery is born to be your partner for the cost effective solutions in powder mixing & powder granulation and drying system .
Hywell Machinery Product Range
Hywell Machinery are not only able to offer the single machine with modern appearance and advanced technique, but also to offer the full line system to save your time, which is one of our strong points. With our engineers` decades of experience in this area, Hywell machinery is capable to offer the most suitable solution for any industry that has a demand for industrial Mixing & Granulation& Drying equipment.
What makes us so successful is our focus on sustainability through superior engineering. Our units are purposely over engineered to delivery superior performance, not just now for the current application, but for future applications. We know that being flexible and adaptable is key in creating a sustainable business as is superior customer service, support, and technology.
Company Name: Changzhou Hywell Machinery Co,.Ltd
Representative: Shally
Product/Service: Drying Machine , Mixing Machine , Granulating Machine , Grinding Machine , Vibration Sieve , Coating Machine
Capital (Million US $): US1.5 million
Year Established: 2009
Total Annual Sales Volume (Million US $): US$2.5 Million - US$5 Million
Export Percentage: 81% - 90%
Total Annual Purchase Volume (Million US $): Below US$1 Million
No. of Production Lines: 3
No. of R&D Staff: 11 -20 People
No. of QC Staff: Fewer than 5 People
OEM Services Provided: yes
Factory Size (Sq.meters): 3,000-5,000 square meters
Factory Location: Jianhu Industrial Park,Wujin District
Contact Person: Mr. Jeff
Tel: 86-0519-85786231