Spray Dryer mini vacuum spray dryer with LCD display TP-S15
Product Description
Spray Dryer mini vacuum spray dryer with LCD display TP-S15    
Introduction Spray Dryer mini vacuum spray dryer with LCD display TP-S15 :
Laboratory table top spray dryer is the latest type of TOPTION which adopts advanced international technology and spare parts. 
TOPTION Laboratory Spray Dryer assembles many of new design, for example, small size for free moving, combining air compressor and electrical heater inside the cabinet, glass spray and cyclone separator for inspecting. All the data and functions are controlled by PLC.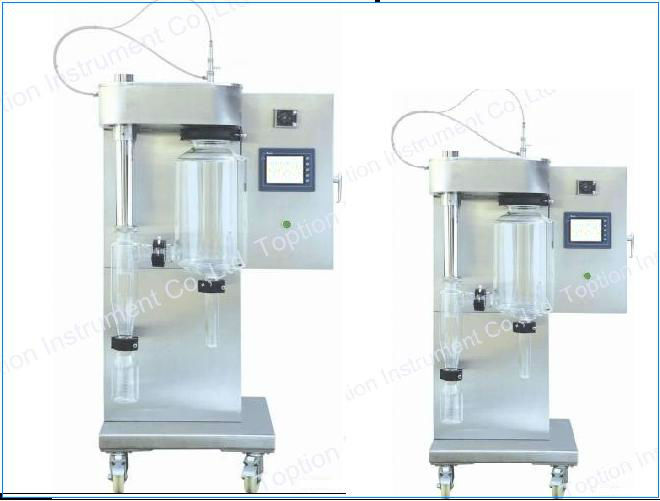 Application Spray Dryer mini vacuum spray dryer with LCD display TP-S15
     Spray dryer can be used in a wide range where the production of a free-flowing powder sample is required. This technique has processed materials in the following areas successfully:
     Beverages, Flavours and Colouring, Milk and Egg Products, Plant and Vegetable Extracts, Pharmaceuticals, Heat sensitive Materials, Plastics, Polymers and Resins, Perfumes, Ceramics and Advanced Materials, Soaps and Detergents, Blood, dyestuffs, Food Stuffs, Adhesives, Oxides, Textiles, Bones, Teeth and Tooth Amalgan and many others.
     Most solutions and supernsions can be spray dried providing that the resulting product has the characteristics of material.
     It is popular in fields of Food, biology, material, pharmacy, university, and R&D institute, etc. especially for processing temperature-sensitive material , for e.g., powder, because material only touch air for a brief moment so that heat couldn't destroy the component of material.  
Main Characte Spray Dryer mini vacuum spray dryer with LCD display TP-S15 :
1. High efficient jet imported.
2. LCD touch screen displays temperature, airflow, air pressure, pump speed and jet cleaner frequency.
3. Auto controlling: one touch on/off, once processing parameters are set, peristaltic pump will be auto started; screen displays animation of the whole process of experiment.
4. Manual controlling is available, be able to adjust technical parameters during the process of experiment.
5. With jet cleaner (stylet), its frequency can be automatically adjusted.
6. Power off thermal-protection, push off button and the equipment will stop at once, except draught fan, make sure equipment won't be burned out by incorrect operation (Forcibly shut fan).
7. Spray chamber, cyclone separator, and receiving tank are all made of transparent heat-resistant high-borosilicate glass; it creates a no-pollution environment for the drying process. All the spare parts are easy to install and wash.
8. Build in oil-free air compressor. The sound is low than 60db, and following the GMP standards.
9. Two-flow spray atomizing structure, whole machine is made of high quality stainless steel, compact design no accessory equipment is needed.
10. Use PID controller, the accuracy of heating temperature is around±1°C.
11. A filter has been equipped to the inlet unit to prevent the sample from contamination.
12. The self-priming peristaltic pump delivers the sample liquid from a container through a small diameter jet into the main chamber to avoid secondary pollution. To make sure the process conducted steady and smoothly.
13. Narrow size distribution, more than 95% of the dry powders are in the same range of particles.
14. Automatic jet cleaner (stylet) prevents the jet from becoming blocked and variably controlled.
15. Innovative tower wall purging device, improves the material recycling rate.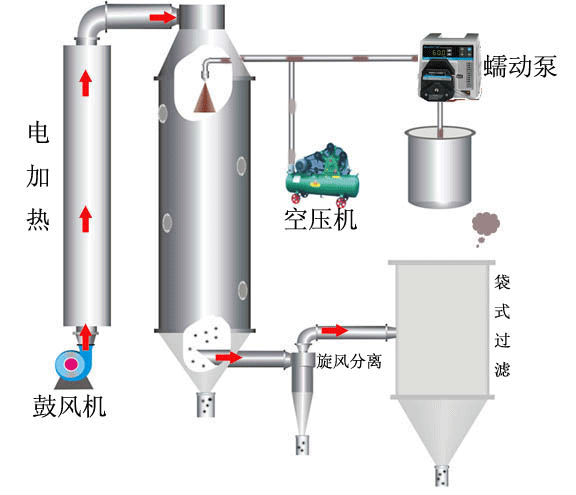 Technical parameters Spray Dryer mini vacuum spray dryer with LCD display TP-S15
Max capacity: 1500-2000ml/h
Temperature range of Inlet air: 40°C -300°C 
Temperature range of outlet air: 40°C -140°C 
Precision of temperature: ± 1 °C 
Dryer time: 1.0-1.5 S
Speed of squirt pump: 50-2000ml/h, 
Spray system: two liquid nozzle (0.5/0.7/0.75/1.0/1.5/2.0/2.5mm)
Spray direction: downwards co-current
Heater power: 3KW   220V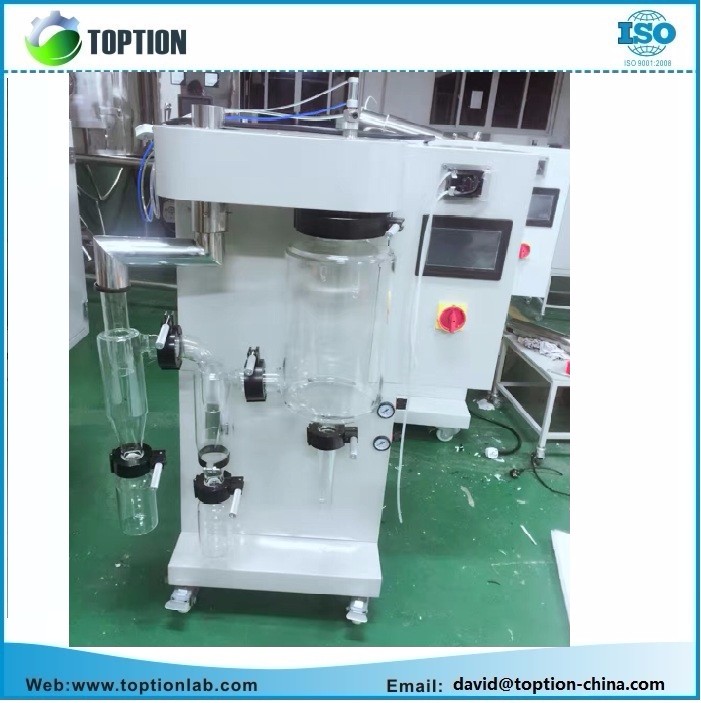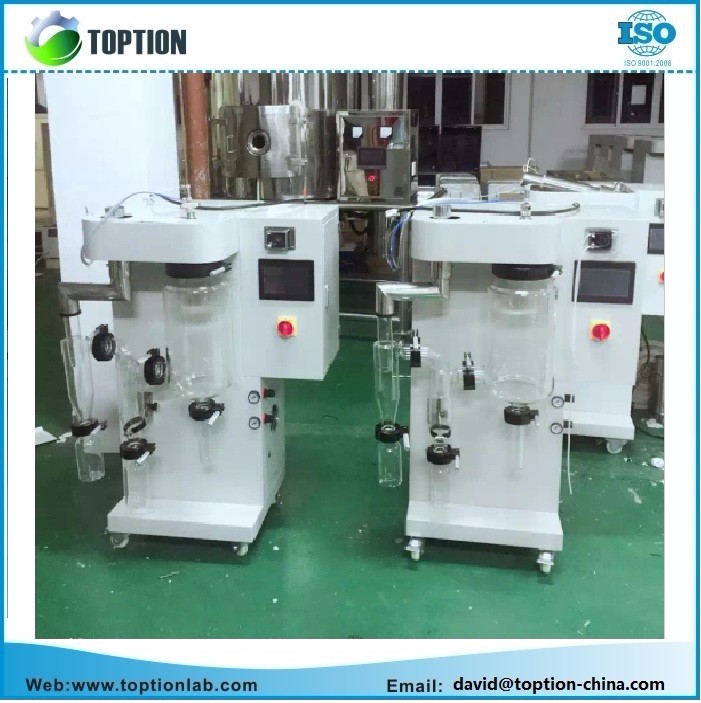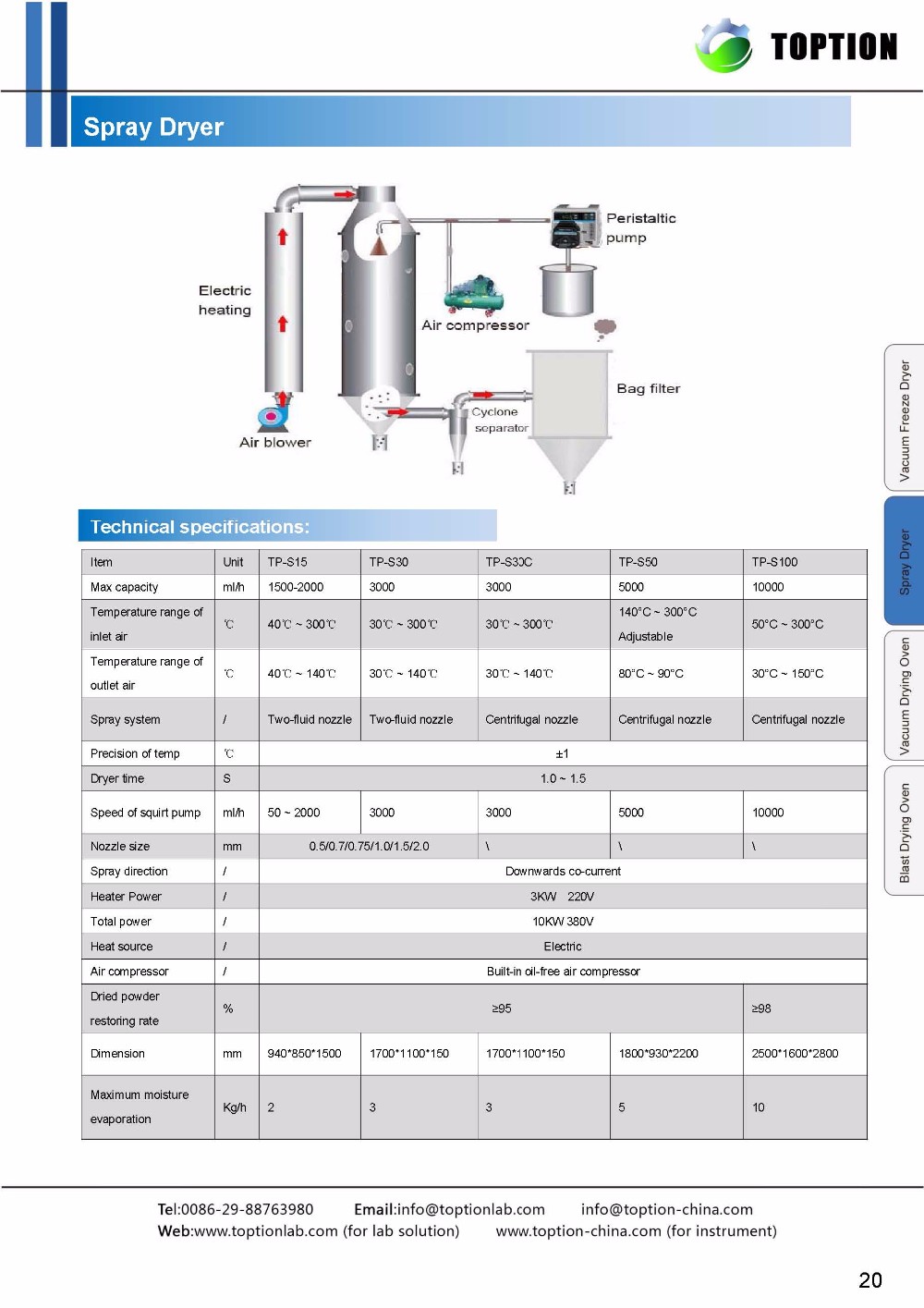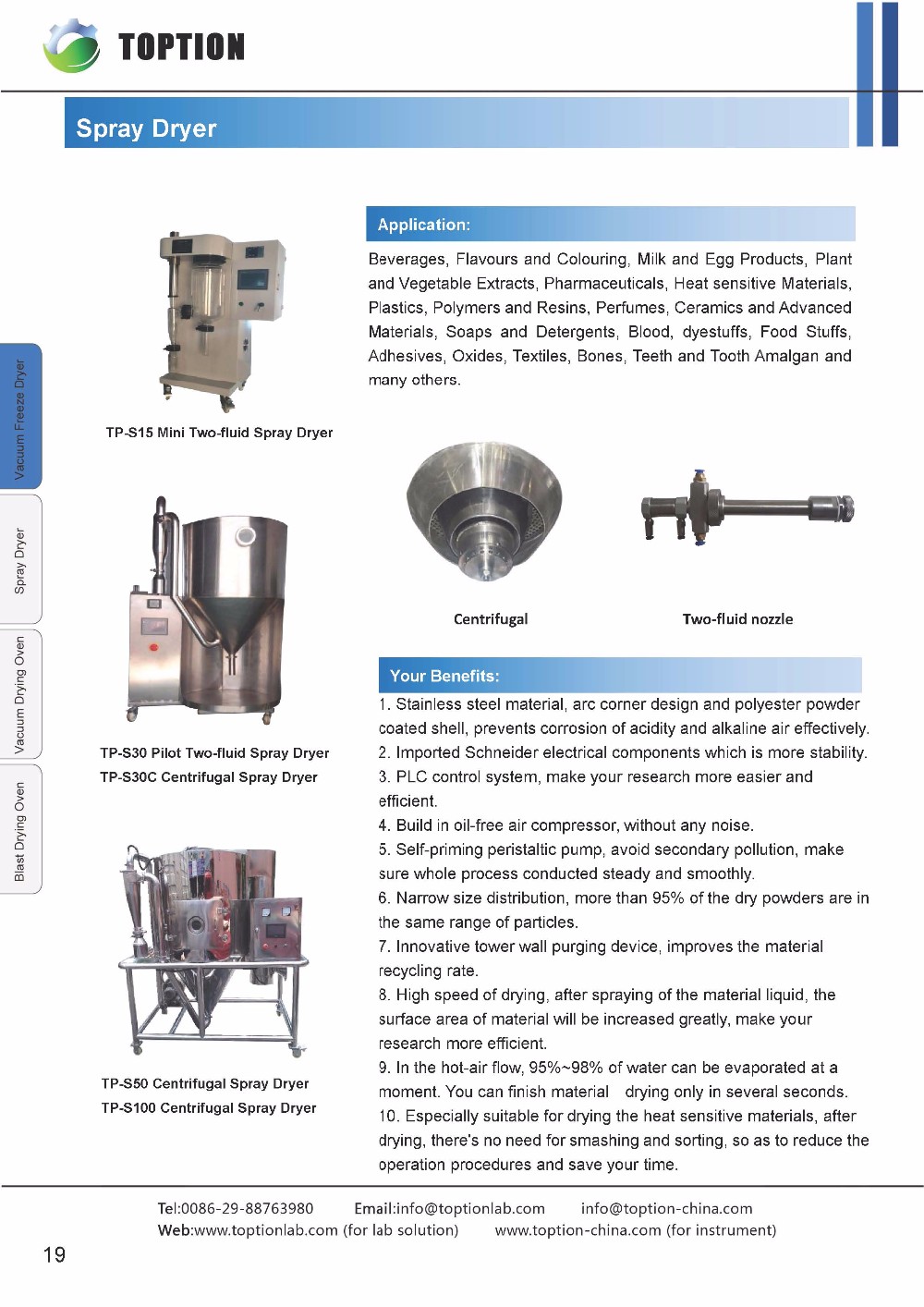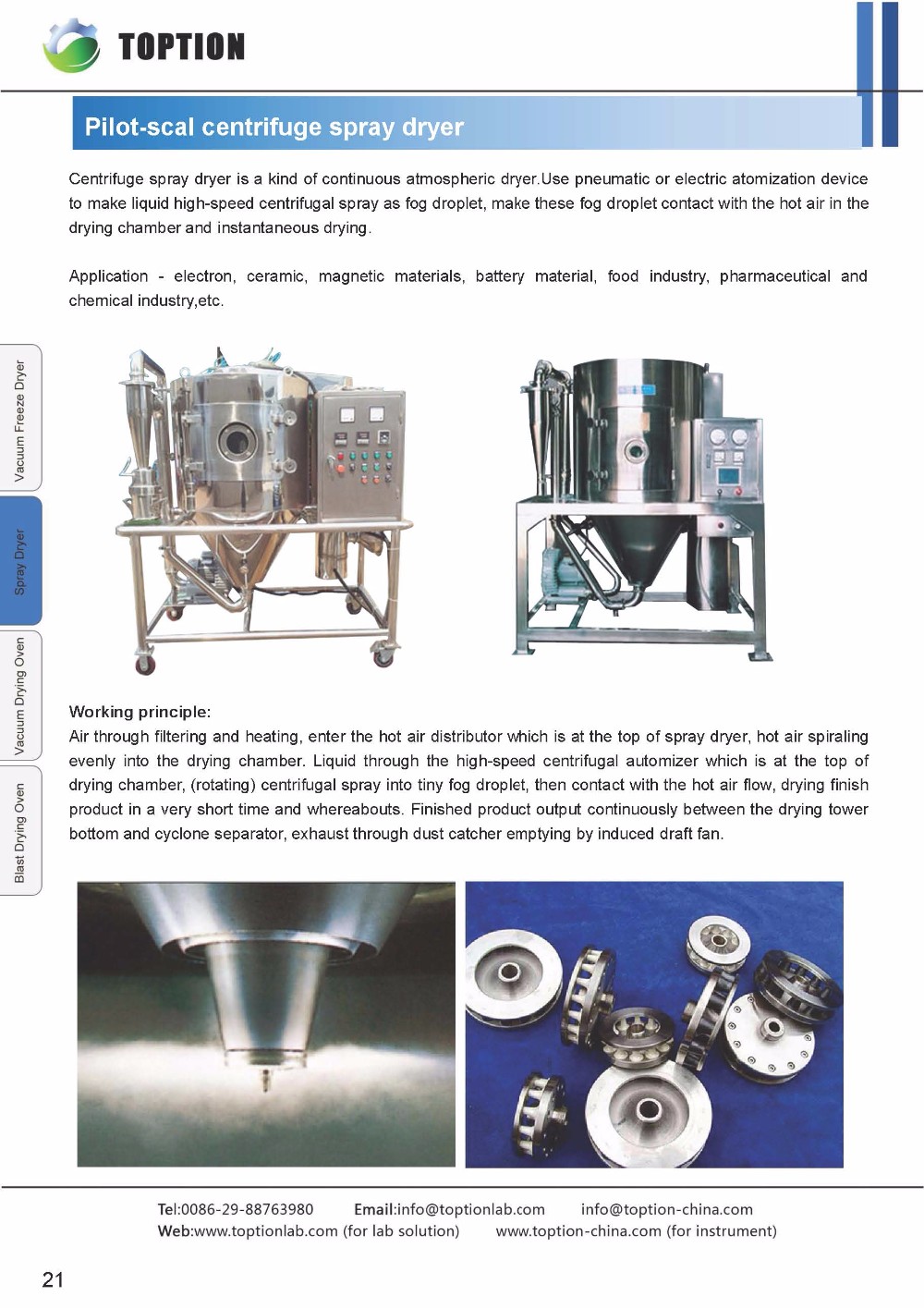 Product Categories : Conventional Lab Instruments Series > Lab Spray Dryer